Triple major Nate Serio to pursue PhD in philosophy, linguistics and cognitive science

Nate Serio arrived at Rutgers three years ago with lofty goals: publish a paper as an undergrad, graduate summa cum laude and earn a scholarship to help him pursue his PhD.
His plan was to shoot for the stars and if he landed on the moon, that wasn't half bad either.
Today Serio's star is still rising. A triple major in the School of Arts and Sciences at Rutgers-New Brunswick, he is on track to graduate with high honors, has a paper being published this summer in the Journal of Philosophy of Life, and has the distinction of becoming the second student in university history to earn the Beinecke Scholarship.
This prestigious scholarship accepts one nomination per accredited school annually, granting only 18 juniors nationwide $34,000 each to further their academic pursuits. Serio, 20, of Edison, who majors in philosophy, linguistics and cognitive science, had his sights set specifically on the Beinecke since his first year at Rutgers.
"I would post little Post-It notes in my freshman dorm room, things like: 'Before you leave today, remember why you started,'" said Serio, who credits his tenacity and discipline to his mom, Kristi, who worked two and three jobs at a time while he was growing up to support her three sons. "I always had to work harder for what I wanted because it wasn't going to be given to me."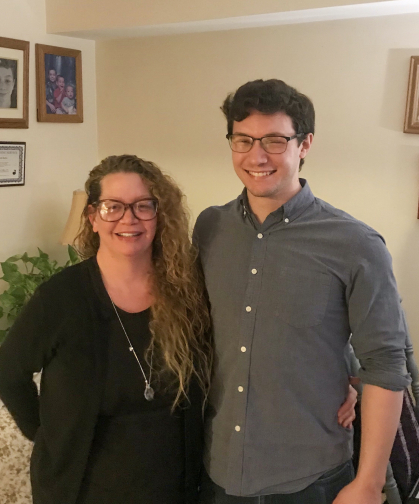 Edison's Nate Serio, right, and his mom, Kristi.
Courtesy of Nate Serio
His love of academics, in particular, philosophy was fostered by a high school history teacher with a PhD in the subject. He was the first to encourage Serio to revel in life's deepest questions rather than regurgitate lessons. His teacher, Gene Nasser, introduced him to Larry Temkin, a Distinguished Professor at Rutgers and one of the world's leading philosophers of ethics and morality. With assistance from Nasser, Serio and his peers formed a philosophy club and during his junior year organized a trip to Rutgers to sit in on one of Temkin's lectures. He was hooked.
"Philosophy makes you approach your beliefs in a logical and rational way, sometimes questioning the very nature of things they are about," said Serio. "The more I did that, the more I realized this is what I wanted to do with my life."
Shortly after starting at Rutgers, his interest gravitated toward the intersection of philosophy and language while taking several courses on the subject with professor Paul Pietroski. He joined Kristen Syrett's Laboratory for Developmental Language Studies in the spring of 2018, followed by a research position at the University of Pennsylvania's Child Language Lab this past summer. He is currently studying how socio-economic disparities affect language acquisition in children as a Lloyd C. Gardner Fellow at Rutgers.
"As an aspiring philosopher and cognitive scientist, I hope to continue to develop a research program centered around these interests and, in doing so, contribute to our understanding of the mind, brain, and human nature," he wrote in his Beinecke application
Nate Serio wanted to study philosophy at Rutgers after his high school philosophy club sat in on one of professor Larry Temkin's lectures.
Courtesy of Nate Serio
It's Serio's hope that the scholarship's cachet will go a long way when he starts courting the schools of his choice – Yale and Stanford. And the cash that comes with the scholarship certainly will make life as an academic less stressful.
"No matter how highly ranked, the graduate school Nate Serio chooses will be getting a young man of high character and rare determination," said Arthur D. Casciato, director of Rutgers' Office of Distinguished Fellowships. "The word 'journey' is overworked these days, but in Nate's case it is clearly earned."
Serio said $4,000 from the grant can be used immediately to cover travel expenses when visiting schools. He plans to put the second $30,000 grant toward living expenses once he starts a graduate program: "PhDs are usually fully funded at the top tier philosophy programs, but this takes a huge weight off my shoulders."
By Lisa Intrabartola